What is it?
A hurricane is a type of tropical cyclone or severe tropical storm that forms in the oceans of the southern hemisphere. A typical cyclone is accompanied by thunderstorms, and in the Northern Hemisphere, a counterclockwise circulation of winds near the earth's surface.
Hurricanes can cause catastrophic damage to coastlines as well as several hundred miles inland. Hurricanes can produce winds exceeding 155 miles per hour as well as tornadoes and mircrobursts. Floods and flying debris from the excessive winds are often the deadly and destructive results of these weather events. Slow moving hurricanes traveling into mountainous regions tend to produce especially heavy rain. Flash flooding can occur due to intense rainfall.
Who is at Risk?
All Atlantic and Gulf of Mexico coastal areas are subject to hurricanes. Parts of the Southwest United States and the Pacific Coast also experience heavy rains and floods each year from hurricanes spawned off Mexico. The Atlantic hurricane season lasts from June to November, with the peak season from mid-August to late October. The Eastern Pacific hurricane season begins May 15 and ends November 30.
3 Ways to Prepare:
1) Store or tie down outdoor furniture and secure all windows and doors in your home. Adding tape to windows can keep glass from shattering into small pieces.
2) Have a safe spot in your home away from windows and doors. Keep your emergency kit in that area and ensure it is large enough for all family members and pets.
3) Ensure there are appropriate supplies for all family members during a storm. This includes dry clothes and shoes, blankets or towels, water and food.
3 Things Responders Need to Know
Your Smart911 Safety Profile can provide 9-1-1 and responders with valuable details in an emergency. Details such as:

Medical/rescue needs: A hurricane can leave residents without power or create a need for evacuation. If responders know if electricity is needed for medical equipment or if specific equipment will be needed to remove someone from their home, they can save time during their response.

Animals/pets: Knowing what animals or pets are in a home can help locate lost animals and assist with sheltering needs.

Exterior home details: Hurricanes can damage street signs and house numbers, having a description of your home including color or siding can help responders identify the correct location for their response.
---
Download Hurricane Graphics & Flyers:
Flyers:


Social Graphics: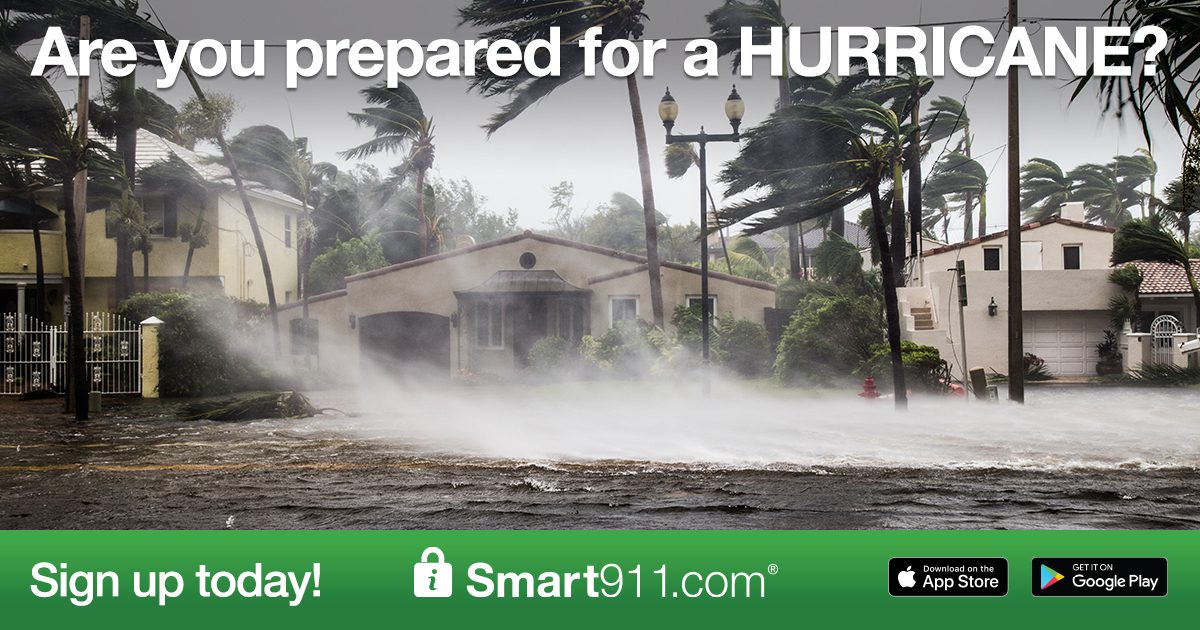 ---
More Preparedness Tips:

*information on this page has been compiled from various sources including ready.gov, noaa.gov, redcross.org and the CDC