Educate Your Child About School Safety and Win!
Have you talked to your kids about school safety? If you have discussed important school safety topics with your child, we want to reward your family for being #SchoolSmart. Upload your child's first day of school photo to Facebook or Twitter with the hashtag #SchoolSmart and the photo will be added to the #SchoolSmart Facebook album.
How to Enter: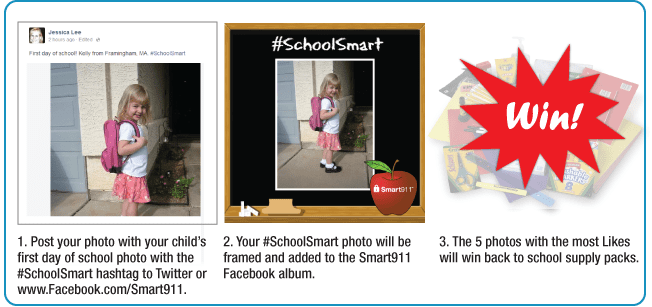 The #SchoolSmart Social Media Contest begins on 8/25/14 and the final day for entry and votes is 9/12/14.
Download our School Safety Checklist to review the "Do's and Don'ts" of School Safety with your family.
Share this on:
*All #SchoolSmart entries and votes will be accepted from 9:00am EST on August 25, 2014 to September 12, 2014 5:00pm EST. Contest must receive at least 10 entries for prizes to be rewarded. One prize per household. Rave Mobile Safety, on behalf of Smart911, can terminate the contest at anytime.