Smart911 is proud to recognize the professionals behind the 9-1-1 calls. 9-1-1 telecommunicators work tirelessly day in and day out to ensure that each emergency is responded to effectively and every caller receives the assistance they need.
Congratulations Smart Telecommunicator Award Winners!
Florida 9-1-1 Dispatcher, Jeff Andress, Wins National 2016 Smart Telecommunicator Awards for Heroic Efforts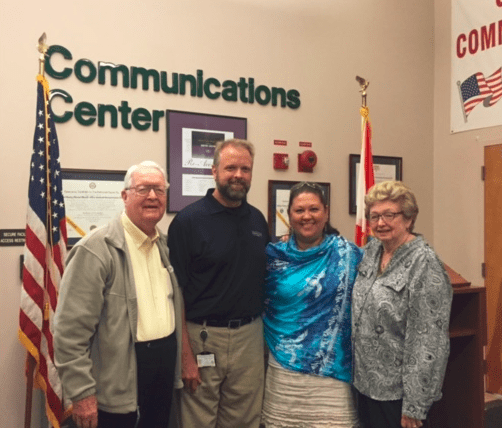 In January 2016, Advanced Telecommunicator, Jeff Andress of the Alachua County Sheriff's Office received a 9-1-1 call reporting that a four year-old had been abducted by a male suspect and the two were traveling on a Greyhound bus. After working with Greyhound to identify and locate the bus, which had traveled into Georgia, Andress coordinated rescue efforts with multiple agencies, including the Georgia State Patrol, who ultimately stopped the bus, rescued the child and apprehended the suspect. For his determination, persistence and utmost professionalism during the incident, from start to finish, Jeff Andress has been selected the national winner of the 2016 Smart Telecommunicator Awards.
Four finalists have also been awarded the title of regional Smart Telecommunicator honorees, including:
Northeast Regional Winner: Val Smith, Roscommon County Central Dispatch
Val Smith of the Roscommon County Central Dispatch in northern Michigan took a 9-1-1 call from a mobile phone, which upon answering, was disconnected by the caller. Fortunately, Smith was able to establish a voice connection with the caller, a teenage female who expressed she was too afraid to speak. Using Smart911 Chat, Smith initiated a text/SMS session with the young woman who revealed via text message that she had been assaulted and assailant was still present. Smith, in a professional and calm manner, was able to ascertain critical information from the caller and guide her to a safe location. Smith's quick thinking and innovative use of tools and resources available to her, made it possible for the young victim to be quickly located and receive the help she needed.
---
Southeast Regional Winner: Damaris Hernandez, Orange County Fire Rescue Department
Damaris Hernandez of the Orange County Fire Rescue Department, serving Orlando, Florida and the surrounding area, received a call for help from a woman who reported her husband was experiencing a cardiac event. Despite the caller being challenging and abusive at times, Hernandez maintained the utmost professionalism. Recognizing that life-saving action was immediately necessary, she guided the caller through administering CPR (cardiopulmonary resuscitation), while simultaneously dispatching emergency medical services. After recovery, the patient came to the Orange County Fire Rescue Department dispatch center and requested to meet the telecommunicator who saved his life. He directly attributed that he was still alive to Hernandez's actions that day.
---
Central Regional Winner: Presley Bumgarner, St. Francis County Sheriff's Office
Presley Bumgarner at the St. Francis County Sheriff's Office in eastern Arkansas answered a very distressing 9-1-1 call, regarding a fellow officer who had taken his own life. The officer was a close friend to the department and was considered family, making this emergency very emotional for all involved. Setting her feelings aside, Bumgarner maintained her professional composure, and performed her job admirably during a very upsetting time, earning the praise of her colleagues at the department.
---
Western Regional Winner: Samantha Denning, Paradise Valley Police Department
Samantha Denning of the Paradise Valley Police Department, located outside Phoenix, Arizona, answered a 9-1-1 call from a young woman reporting she was suicidal. Denning compassionately engaged the caller while also dispatching officers. As the situation seemed to grow more dire and officers not yet having arrived, Denning needed to act quickly. Remembering that the caller mentioned she had dogs, she asked the caller who would care for the them if she was not there. This caused the woman to pause and wait for officers to arrive. Quick thinking, expertise and persistence saved the young woman's life.
---

Learn About The Charities Selected By The Winners:
National Winner Charity Selection: Big Cat Rescue
Northeast Regional Winner Selection: Roscommon County Animal Shelter
Southeast Regional Winner Selection: March of Dimes
Central Regional Winner Selection: St. Jude Children's Research Hospital
Western Regional Winner Selection: Concerns of Police Survivors, Inc
---
Deadlines for the 2016 Awards
Nominations open: February 22 through March 18, 2016
Finalists: Chosen and notified by March 25
Public vote: Will take place March 28- April 1
Winners Announced: National Public Safety Telecommuncations Week April 11-15.
---
Prizes
One national winner will be named at an awards ceremony and will receive a $1,000 donation to the charity of their choice
Four regional honorees will be named and receive a $500 donation to a charity of their choice
---
Proud Partners:
---
Past Winners: